Sammy and Fat Sum Lures
LUCKY CRAFT is now known as the leader of lure manufacture who gave the opportunity to all anglers outside of Japan know the high quality Japanese lure craftsmanship, and became recognized as the representative lure manufactures from Japan.
They have been releasing many lineup into market more than 5 years, but everything is started from a famous high performance lure. It's SAMMY series, and you might have one in your tackle box. "Walking the Dog" action which SAMMY create is surprising action for us when we first try it.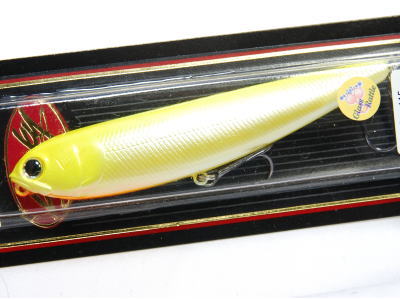 The original lure designer of SAMMY is Mr. Isao Yamaoka also known as Sam Yamaoka. His name Sam as a lure builder sounds an American but he is a real Japanese craftsman. He named himself Sam like an American name with expectation that his lures will be accepted in the market in USA.
Some of you may notice that SAMMY is named after Sam Yamaoka. (BTW, When Mr. Isao Yamaoka named himself as Sam, its originally named after his dog and now he spells his name as "Sum" not "Sam". If his dog has different name, SAMMY might have had totally different name...)


FAT SUM (SUMLURES)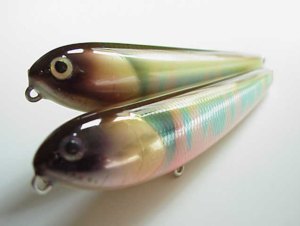 The copyright of above image belong to SUMLURES Co.,Ltd. not Ichiban Tackle
---
Isao Yamaoka (aka) Sum Yamaoka:



A lure craftsman who has been making lures for over 25 years, and designed the pencil bait called "Fat Sum" made of balsa which became known as the the prototype of SAMMY years later.
He founded his own lure manufacture SUMLURES CO., Ltd, in 1999.
U.S. professionals use his hand made lures as a secret weapon for great results. Many faked imitations were sold out not only in Japan but also abroad.
Original "Fat Sum" is made of balsa, but he also produce "Fat Sum" made of plastic with the reasonable price from SUMLURES.
---


The person who found out the high potentiality for "Fat Sum" is Mr. Seiji Kato. He had been fishing at West Coast in USA. On an US Open, Mr Kato found that his American partner use a wonderful lure and knew that the lure is made by a Japanese craftsman. The lure was "Fat Sum". He met the Japanese lure in USA a long way from his native country Japan. After he came back to Japan, he had contacted Mr. Yamaoka and had contract to begin commercial production of "SAMMY" from LUCKY CRAFT.




Seiji Kato

(1960-):
He is the key person when we talk about Japanese fishing industry.
He designed TD minnow, TD vibration. etc while he's working at DAIWA Corporation, and recognized as the top lure designer. As a lure builder, so he fishes bass tournaments.
After DAIWA, he moved to LUCKY CRAFT and contributed on the establish of LUCKY CRAFT. He deigned STAYSEE, MOONSAULT, CB, LV, B'FREEZE, etc and now recognized as the leading lure designer in Japan.
BEVY SHAD which he designed won Japan BASS classic and sold in huge numbers.
Before that, Japanese anglers prefer plastic worm but the appearance of BEVY SHAD made the anglers rush to BEVY SHAD, and most of BEVY SHAD were all gone at most of tackle shops.
At the same time, Mr Kato also contributed the launch of LUCKY CRAFT USA.

After the success at LUCKY CRAFT in his career, he founded his own lure manufacture JACKALL BROS. (LAKE POLICE) and serves as president and CEO .
Of course, he's still working as the lure builder at JACKALL BROS. (LAKE POLICE).
Their product concept resonated with all anglers not only with tournament anglers who needs to win on the high pressure lake, and developing for every anglers to catch and enjoy the fishing with their product.
---

The capability of JACKALL BROS. (LAKE POLICE) to produce high quality tackle is obvious, and we guarantee that they gave you best-satisfaction.
Ichiban Tackle will keep introduce the high quality Japanese lure like LUCKY CRAFT, JACKALL BROS. (LAKE POLICE), and any other manufacture's professional works.
(Written in April, 2005)